2022-2023 Academic Catalog
[ARCHIVED CATALOG]
2022-2023 Academic Catalog
---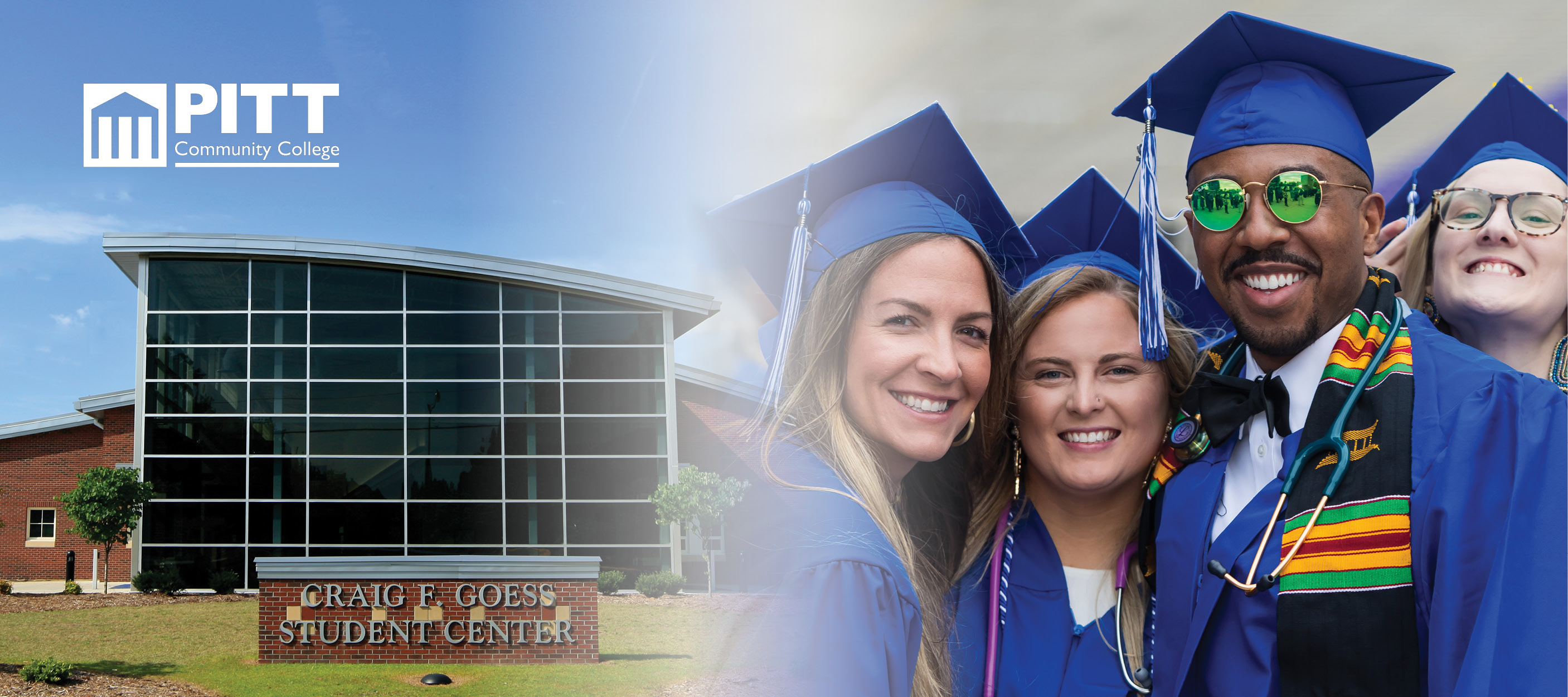 IMPORTANT PHONE NUMBERS
Admissions
Arts and Sciences Division: (252) 493-7383
Business Division: (252) 493-7307
Construction and Industrial Technology Division: (252) 493-7428
Health Sciences Division: (252) 493-7309
Public Services and Fine Arts Division: (252) 493-7304
Continuing Education
Continuing Education and Workforce Development: (252) 493-7388
Small Business Center: (252) 493-7541
Transitional Studies
High School Equivalency/Adult Basic Education/Achieving College Entry: (252) 493-7628
Transitional Studies: (252) 493-7892
General Information
College Outreach: (252) 341-5696
Evening and Weekend College: (252) 493-7627
Farmville Center: (252) 753-0010
General Information: (252) 493-7200
Library: (252) 493-7350
PCC Police/Public Safety: (252) 493-7777
Pitt Community College Foundation: (252) 493-7210
Student Store: (252) 493-7252
Student Services
Cashier's Office: (252) 493-7234
Financial Aid: (252) 493-7339
Registrar: (252) 493-7245
Student Government Association: (252) 493-7440
Transcripts: (252) 493-7232
Vice President of Student Services: (252) 493-7211
PITT COMMUNITY COLLEGE
Institutional Accreditation Statement
Pitt Community College is accredited by the Southern Association of Colleges and Schools Commission on Colleges (SACSCOC) to award associate degrees. Degree-granting institutions also may offer credentials such as certificates and diplomas at approved degree levels. Questions about the accreditation of Pitt Community College may be directed in writing to the Southern Association of Colleges and Schools Commission on Colleges at 1866 Southern Lane, Decatur, GA 30033-4097, by calling (404) 679-4500, or by using information available on SACSCOC's website (www.sacscoc.org).
COURSE CATALOG DAY AND EVENING PROGRAMS
Volume XLI 2022 - 2023
Copyright 2022 All Rights Reserved
Pitt Community College publishes this catalog to provide students and other interested persons with information about the College and its programs. The information provided is up-to-date as of Aug 2022. For information about changes after this date, refer to the addendums to the catalog on the Pitt Community College website (www.pittcc.edu).
The provisions of the catalog are not an irrevocable contract between students and Pitt Community College. The College reserves the right to change any provisions, requirements, or schedules at any time or to add or withdraw courses or program offerings. Every effort will be made to minimize the inconvenience such changes create for students.
Students having questions not answered in this publication may secure additional information from the Office of the Executive Vice President of Academic Affairs/Student Services, Pitt Community College, P.O. Drawer 7007, Greenville, North Carolina, 27835-7007; telephone (252) 493-7211, Vernon White Building, Room 109.
It is the policy of Pitt Community College not to discriminate against any person on the basis of race, color, handicap, religion, age, or national origin in the recruitment and admission of students; the recruitment, employment, training, and promotion of the faculty and staff; and the operation of any of its programs and activities, as specified by federal laws and regulations. Pitt Community College is an equal opportunity institution.
For admission information, please call (252) 493-7232 or visit our website at www.pittcc.edu.
---